EU funding for international research and training project into vascular anomalies
The Angiogenesis & Metabolism Laboratory is part of the international V.A. Cure research network that will receive 3.7 million euros of EU funding from the MSCA-ITN programme (Marie Skłodowska-Curie Actions) to study vascular anomalies.
Vascular anomalies are a group of rare vascular diseases, characterized by localized developmental defects of blood or lymphatic vessels, which are present at birth or appear in early childhood. For many of these disorders, no cure exists, and many patients need life-long clinical treatment. Treatment success is often partial and patients with chronic pain, dysfunction and lowered quality of life.
The V.A. Cure network will study in depth the genetic mutations and signalling pathways that drive vascular anomalies. While pursuing this research, the network will coach 14 PhD students in diverse aspects of biology and biomedicine with the aim to train the next generation of vascular biologists.
The network consists of seven academic partners from all over Europe including the de Duve Institute (Belgium), University of Uppsala (Sweden), Max Planck Institute for Heart and Lung Research (Germany), Karolinska Institute (Sweden), University of Potsdam (Germany), University of Oulu (Finland) and INSERM (France)). The network is complemented by AstraZeneca (Sweden) and FinnAdvance (Finland), two companies with a strong interest in basic biomedical research.
"This is a fantastic opportunity for our network to recruit young scientists to the field of vascular biology and the study of vascular anomalies. Vascular anomalies have been neglected for a long time, yet our earlier research has opened doors for better understanding and development of precisions therapies. As blood and lymphatic vessels are implicated in various diseases, we also expect the data produced by this network to be applicable in many other areas of vascular biology and vascular diseases," says project coordinator Prof. Miikka Vikkula of the de Duve Institute, UCL, Brussels, Belgium.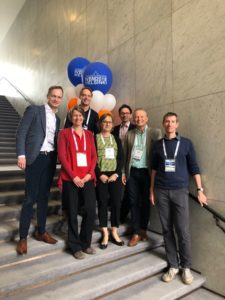 The V.A. Cure Network (from right to left):  Salim Seyfried, Miikka Vikkula, Lauri Eklund, , Sabine Bailly, Lars, Jakobsson, Taija Mäkinen, Michael Potente