Kerstin Wilhelm receives Young Scientist Travel award
Kerstin Wilhelm was honored with a Young Scientist Travel Grant during this year's Angiogenesis Gordon Research Conference. She received this prestigious award for her outstanding work on the role of FOXO transcription factors in the endothelium, which she presented at the meeting.
The 2015 Angiogenesis Gordon Conference took place at the Salve Regina University in Newport / RI and focussed on the very latest research on the cellular principles and molecular regulation of blood vessel formation in development and disease.
Read more about the conference.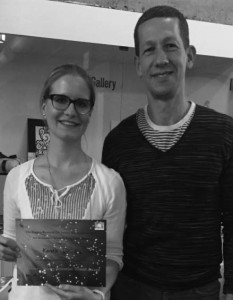 Kerstin Wilhelm together with Prof. Dr. Holger Gerhardt, the chair of the conference, who handed over the certificate.