Kerstin Wilhelm wins the second prize of the 2016 Hermann Rein Award
Dr. Kerstin Wilhelm was chosen as one of the three finalists for the Hermann Rein Award for her recent publication "FOXO1 couples metabolic activity and growth state in the vascular endothelium". This award stands for outstanding achievements in the field of experimental or clinical research in microcirculation and vascular biology and is funded by Servier Deutschland GmbH. This year the award committee of 6 professors from Germany and Switzerland received 13 applications. All applicants published in prestigious and high impact factor journals (average >18), reflecting the excellent quality of all submissions. During the meeting of the German Society for Microcirculation and Vascular Biology (GfMVB) from 26th to 28th of September, 2016 the three chosen finalists had to present their work. Afterward, the jury anonymously reviewed and ranked the three finalists. We congratulate Kerstin for her excellent present in the award session and for winning the second prize.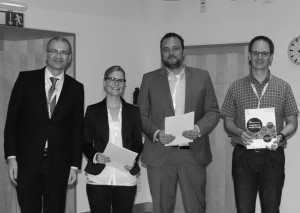 Prof. Dr. Henning Morawietz together with the three finalists of this year's Herrmann Rein Award: Dr. Kerstin Wilhelm, Dr. Sven Reischauer, and Dr. Boris Strilic (winner).